Seal Paddles - 2023 SCHEDULE
Presented in partnership with the Seacoast Science Center's Marine Mammal Rescue


Seal Paddles - 2023 Spring Schedule
| | | |
| --- | --- | --- |
| Date | Paddle Time | Low Tide |
| May 13 (Saturday) | 11:45 am - 2:45 pm | 1:17 pm |
| | | |
| May 27 (Saturday) | 11:00 am - 2:00 pm | 12:35 pm |
| May 28 (Sunday) | 12:00 pm -3:00 pm | 1:26 pm |
| | | |
| | | |
| June 10 (Saturday) | 10:30 am - 1:30 pm | 11:54 am |
| June 11 (Sunday) | 11:30 am - 2:30 pm | 12:52 pm |
| | | |
| | | |
| | | |
For more summer time seal sightings, check out our Isles of Shoals expeditions (click here)

Seal Paddles - 2023 Fall Schedule
| | | |
| --- | --- | --- |
| Date | Paddle Time | Low Tide |
| | | |
| September 10 (Sunday) | 1:45 pm - 4:45 pm | 3:16 pm |
| September 23 (Saturday) | 11:00 am - 2:00 pm | 12:35 pm |
| | | |
| October 7 (Saturday) | 11:15 am - 2:15 pm | 12:49 pm |
| | | |
| October 22 (Sunday) | 10:45 am - 1:45 pm | 12:17 pm |
For more summer time seal sightings, check out our Isles of Shoals expeditions
(click here)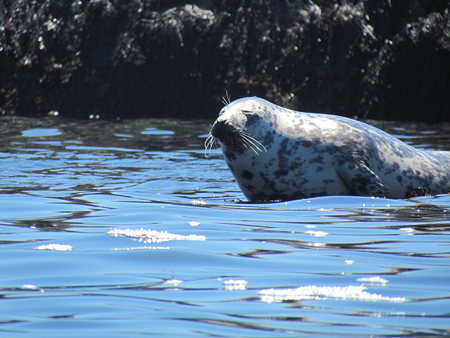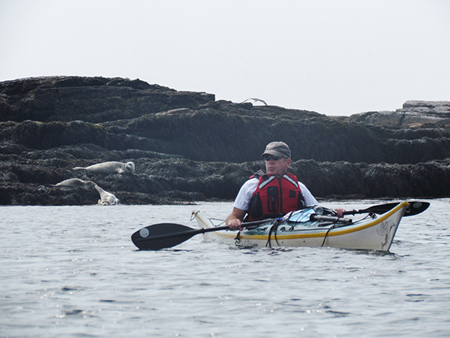 Private Tours
can be arranged on the same dates as above or on other dates. Please call to discuss.
The Tour :
We'll start our adventure from downtown Newburyport and paddle downriver on the outgoing tide to Badger's Rocks, where dozens of seals typically gather to rest. At Badger's Rocks we may encounter
Harbor seals
and
Grey seals
sunning themselves or bobbing in the water. On the way, we may see seals and various birds such as cormorants, terns, sandpipers, turkey vultures, ospreys, and maybe even a bald eagle!
As with the attempted viewing of all wildlife, sightings can never be guaranteed. Although numerous seals are frequently encountered, we can not guarantee that we will see seals of any amount or of any specific type.
After a brief stop for a stretch and a light snack, the river will "turn" and we'll ride the incoming tide back to Newburyport.
How to prepare:
We recommend sunglasses, a hat with a visor, sunscreen, paddle gloves, a windbreaker and (incase you get wet) a change of clothes. Your feet will probably get wet ... water shoes or water boots are most comfortable. Please do not wear flip-flops. Dry bags, zip-lock bags or plastic trash bags are great to keep your "extras" dry. Snacks and a thermos of something warm to drink are also recommended. Don't worry, more is better - all boats are touring kayaks with plenty of space for storage. Don't forget your camera!
In the spring, the water is still very cold, so cold water gear is recommended but not mandatory. Light layered synthetic clothing is the next best thing.
Tandem kayaks are recommended for beginners because they
offer more stability for viewing the seals and are a much better choice (over a single kayak) on a windy day.
Please note:
Because of cold water, only tandem kayaks (double kayaks) are allowed on paddles before May 15th.
As with all tours, please arrive at least 1/2 hour before the scheduled departure time, i.e., enough time to sign in, get suited, and fitted for your boat.
These trips are timed specifically to work with the tides, so please be punctual .... we cannot wait for latecomers !
Single Kayak: $65

Double Kayak: $120

Tips are not included but are always greatly appreciated !